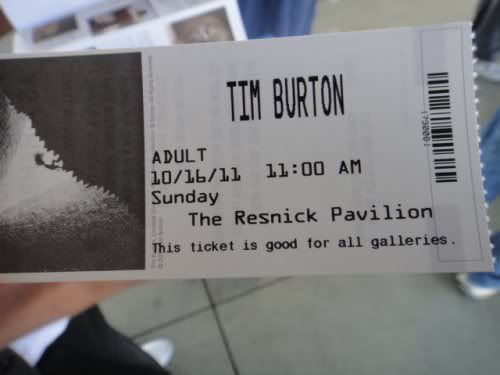 Last weekend, I went to the
Tim Burton exhibit at LACMA
. For fans or non-fans of Tim Burton, this is something you cannot miss out on. First of all, you gotta buy your tickets in advance or risk it being sold out the day you go. My friend, Kevin, ordered tickets for Sho and I. Tickets were $22 online. Pretty expensive for a museum.. oh well. It's Tim Burton. Another tip would be to go during the evening or weekday. If you do happen to go during the weekend, go early. At least you'll be able to get into the exhibit fast and see some of the artwork before the staff lets in the next batch of people. In the beginning, I felt like we were a pack of sardines. Everyone's all crowding around you... couldn't really take my time to look at each art piece. Just felt rushed. Another disappointing thing is,
no pictures allowed
. I was sad cause there were a few pictures I wanted to take a pic of, especially the front entrance.
Besides the crowds, I really enjoyed this event. The event displayed a good timeline of Tim Burton's work. I like how his earlier works compared to where he is now really haven't changed. I guess you can say he expanded more on the "creepiness" level. Definitely an event to see. Hurry before time runs out!
It ends 10/31 Halloween
!