I was browsing around Target the other day with Sho. While he was trying to look for photo frames, I told him that I'll be in the beauty section. I always tend to buy e.l.f. products whenever I visit Target. I don't know why. It's decent quality for the price you're paying. This is why I try to stay away from 99cent, Target, or Daiso. I always buy something even when I don't need it BUT for this case I was really running low on my powder foundation so decided to get this to replace.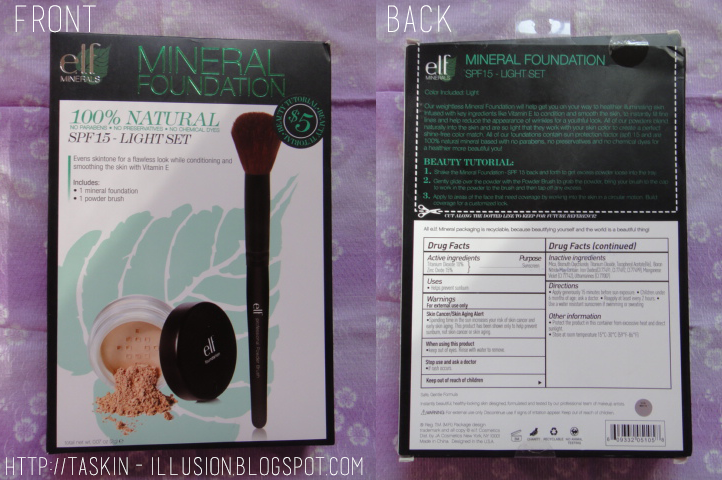 Product Info


Brand: e.l.f. minerals
Name: Mineral Foundation
Type: SPF 15 - Light Set
Price: $5
Includes: 1 mineral foundation & 1 powder brush


100% Natural • No Parabens • No Preservatives • No Chemical Dyes
"Evens skintone for a flawless look while conditioning and smoothing the skin with Vitamin E."
On the back is listed with a more detailed description and a beauty tutorial
Beauty Tutorial
1. Shake the mineral foundation - SPF 15 back and forth to get excess powder loose into the tray
2. Gently glide over the powder with the Powder Brush to grab the powder, bring your brush to the cap to work in the powder to the brush and then tap off any excess
3. Apply to areas of the face that need coverage by working into the skin in a circular motion. Build coverage for a customized look.
Packaging
: Products nicely tucked into plastic.
Powder Brush
The brush bristles are soft and round. Easy to apply loose or liquid foundation. I kinda wish the brush was more puffed out.
Mineral Foundation
Very fine powder with no shimmer.
Before & After
Overall 2/3
★★☆ In the before and after pic, the mineral foundation only smoothes out skin and reduces redness which I guess did its purpose but this doesn't give full coverage for my skin which I need. I can never leave the house without makeup on. Once the sun hits my face, I get freckles. People think it's cute. It's NOT. This happens to my mom and sister so sunscreen is a must. As foundation alone, I would not recommend. Maybe this could work for people with less pigmentation on their skin. It does have a very light and natural feel. I was going to end this with a 1/3 but decided to give another point for "effort". This may not give full coverage alone but used as a setting powder is great. Applying liquid foundation first then finishing it with this powder gave it a much better look and feel.
Pros
- Cheap!
- SPF 15
- Light & natural feel
Cons
- No full coverage
- More of a setting power than stand alone foundation