I really wanted to dye my hair for the summer but haven't had the chance. With school starting next month. I had to get to it. I bought Sakura Creamy by Palty at Mitsuwa. Palty products were on sale for $8.99.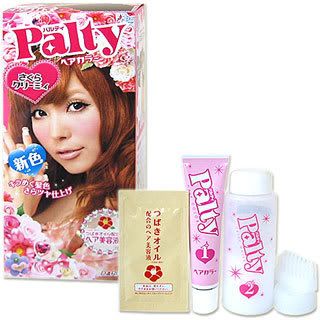 Directions were pretty simple to understand even for those who can't read Japanese.
Do this on dry hair.
1. Pour tube "1" into bottle "2". Mix well for 15 seconds.
2. Use brush nozzle. Start dyeing. Roots to tip.
3. Wait 20 mins for dye to set
4. Wash out dye. Use shampoo and conditioner. I shampooed my hair twice.
5. After drying your hair, add the oil treatment.
This was the first time I self-dyed my hair. I had Sho help me do the back of my head. It took about 30mins to cover my entire head plus wait another 20mins for the dye to set. It turned out great. I love the color.