I'll be reviewing
Somersault
Circus by Andrea's Choice
. Andrea is a popular make-up guru on
youtube
. She will be launching her nail collection Fall 2012. The collection is very neon and has a circus theme. There are 5 nail polishes: Reverso, Ringmaster, Spectacle, Somersault, and Tightrope. I get first dibs on it since I'm a myglam subscriber. :]
Product Info
Each chip-resistant shade is..
❤ Vegan
❤ Cruelty free
❤ Free of Formaldehyde, Toluene and DBP.
❤ 13.2 ml
I don't have nails cause I'm a nail bitter so I asked my friend
Sayuri
to lend me her nails. LOL.
We took these photos at night so the lighting is kinda dark. At first, I was going to show how each coat layer looked like but those pictures turned out too dark to edit. For the rest of the photos, I tried to make the best of it and to take photos at the best lighting angles possible.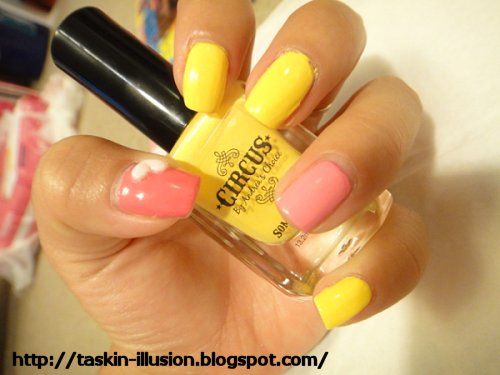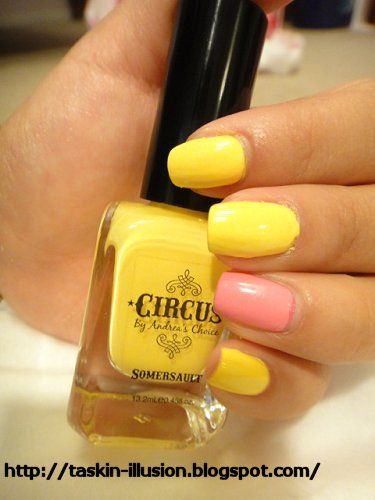 Rating: 3/5
This is a really bright yellow color. I like the pink and yellow combination. It reminds me of pink lemonade! Okay, on to the bad news. Sayuri had to apply 4 coats to achieve the bold yellow color. She says other nail polishes should cover with 2-3 coats. Also, the nail polish has a really strong chemical smell. Hopefully your room is well ventilated.
For more info
http://www.youtube.com/AndreasChoice
http://www.facebook.com/CircusByAndreasChoice
http://www.circusbyandrea.com/