My friend, Sayuri, gave me her old un-used eyelashes
post
. She did try one out but I think she either had too many or it wasn't her type. This is just an addition to my vast collection of eyelashes *_*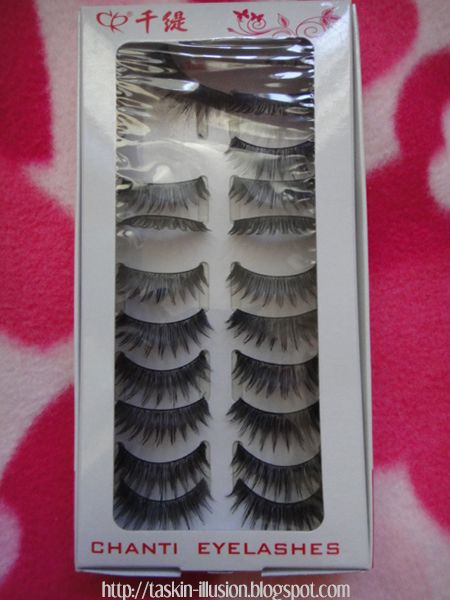 Product Info
Name: Chanti Eyelash
Type: #120
Pairs: 10 pairs
Price: $10.99-19.99
Packaging
The box has a clear flap so you can see the 10 pairs. The clear flap folds over and eyelashes are glued at each end. Box seems fairly secure. I tried sitting on it so it can bare weight and it didn't ruin the box and lashes lol
When removing the eyelashes, the glue at the ends removes part of the eyelashes which I don't like :(
Design & Band
They aren't even at length. The hairs are just alternating from short to long. They look and feel thick. The band appears to be stiff but it's soft. I didn't have to loosen the band.
No eyelash
With eyelash
Volume & Length
I thought it was long enough to cover my inner corner so it looks a bit awkward at some angles. This eyelash definitely adds super length to my eyes. You can see the volume it gives when I have my eyes closed. I wish I add more eyelashes :(
Pros
- adds volume and length
- lashes are soft
Cons
- end parts of eyelash come off when removing them from box
Where to buy
Since I got it as a gift I searched for where you can buy for a good price.
Ebay
http://stellaeyelash.com.au would be good.
http://chanti-eyelash.com
I hope you liked this review. Have so many eyelashes to review.. you girls don't even understand! Hmm that gives me an idea to make an eyelash collection post! Until next time!