I posted this 5 days ago on my Instagram. Letting my followers know that I was working on a review. This WAS supposed to be posted on my blog 5 days ago because I thought I had it scheduled to be posted but it ended up staying in "draft mode". Oh well. Here it is.
So a while back, Sayuri brought back a bunch of omiyage for me on her Tokyo trip
post
. In the there, she gave me this lovely eyeshadow palette from Kate. I planned on making a review but of course stuff happened and totally forgot. This week, I decided to finally make a review. I've used this eyeshadow several times already so the "gold" writing is a bit faded and the eyeshadow is a tiny bit worn down but it still in mint condition.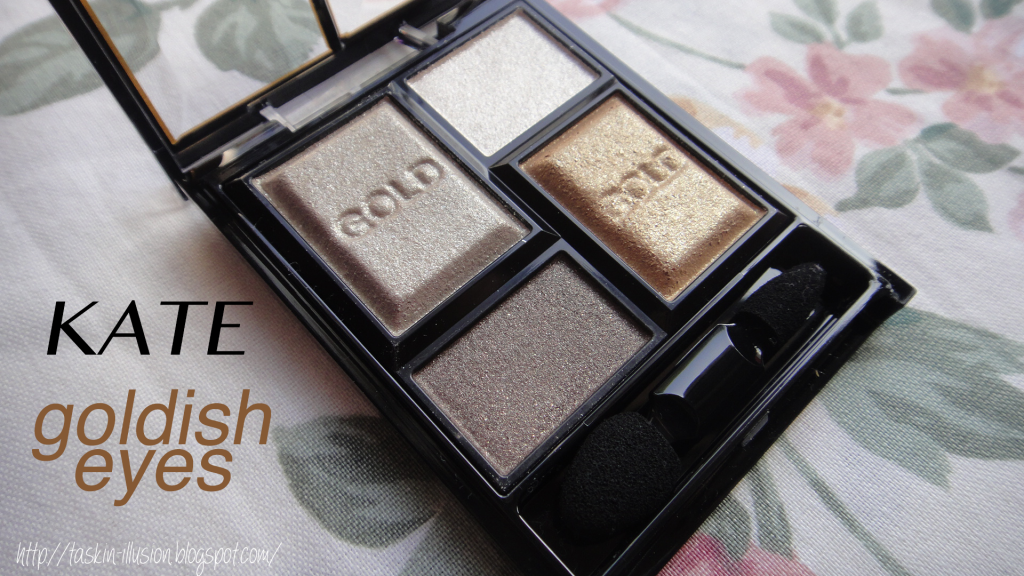 Product Info
Brand: Kate
Name: Goldish Eyes
Color: GD-2
Weight: 3.5g
Price: 1600円
Packaging
The palette has nice packaging. It has labels on it with gold borders. Soft beige and deep brown have separate borders to differentiate highlighter and liner while shiny gold and color gold are bordered together as both can be used as a base. Comes with an applicator but no mirror inside.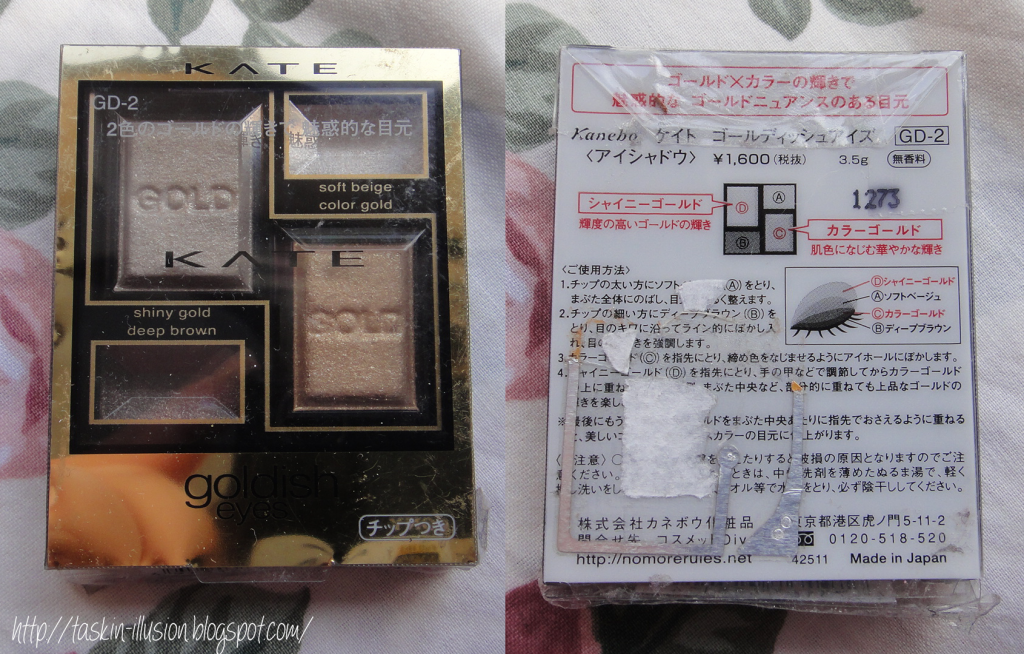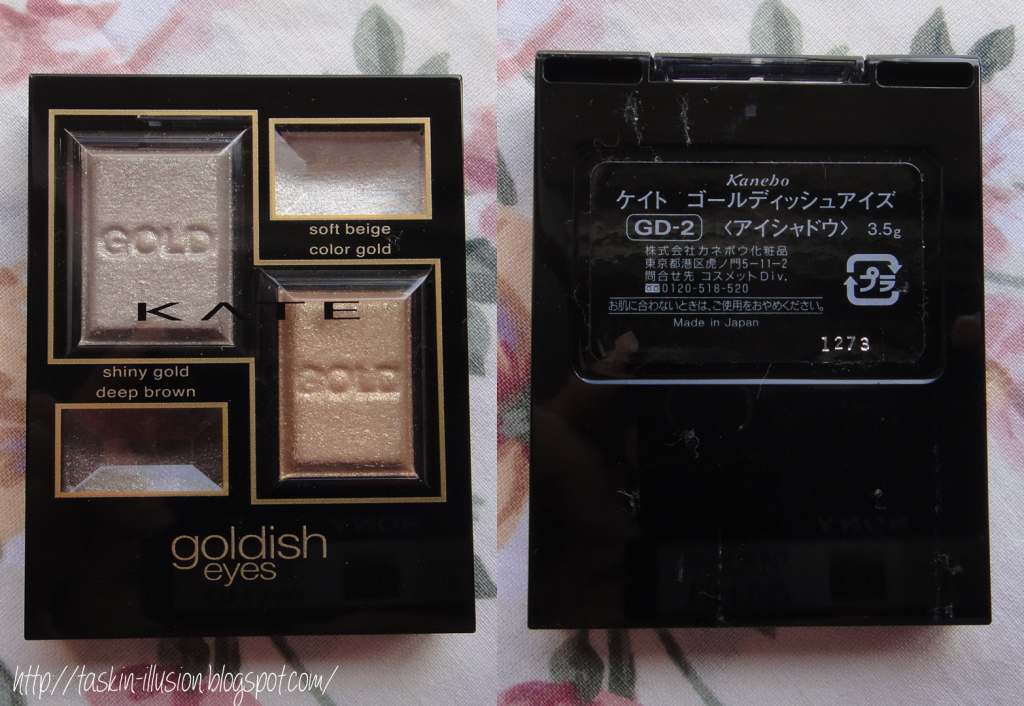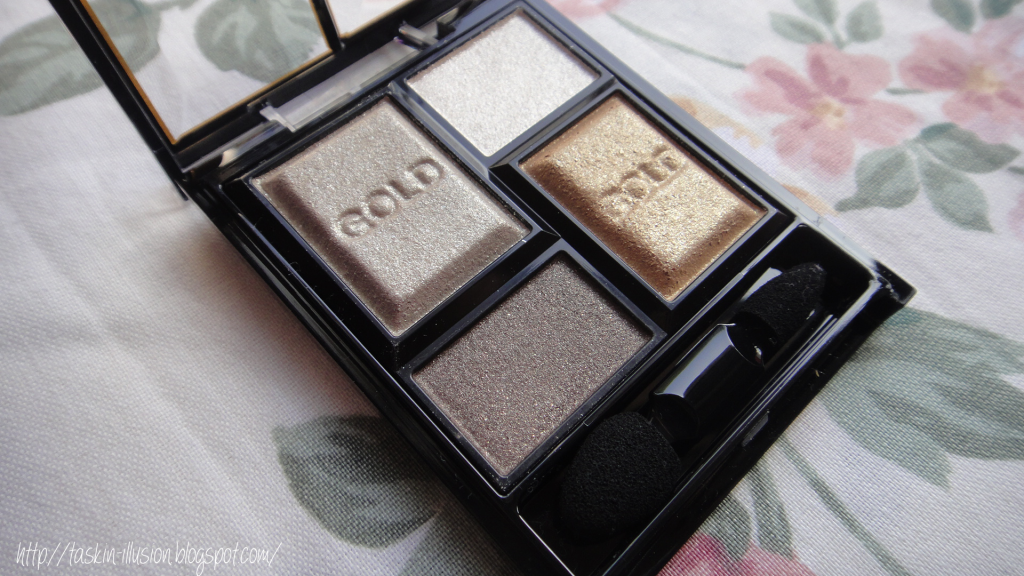 Colour / Swatches
Soft beige
: Very light pigmentation and shimmery.
Shiny gold: Light pigmentation with glitter.
Color gold: The most pigmented out of all with glitter.
Deep brown: Light pigment with a bit of glitter.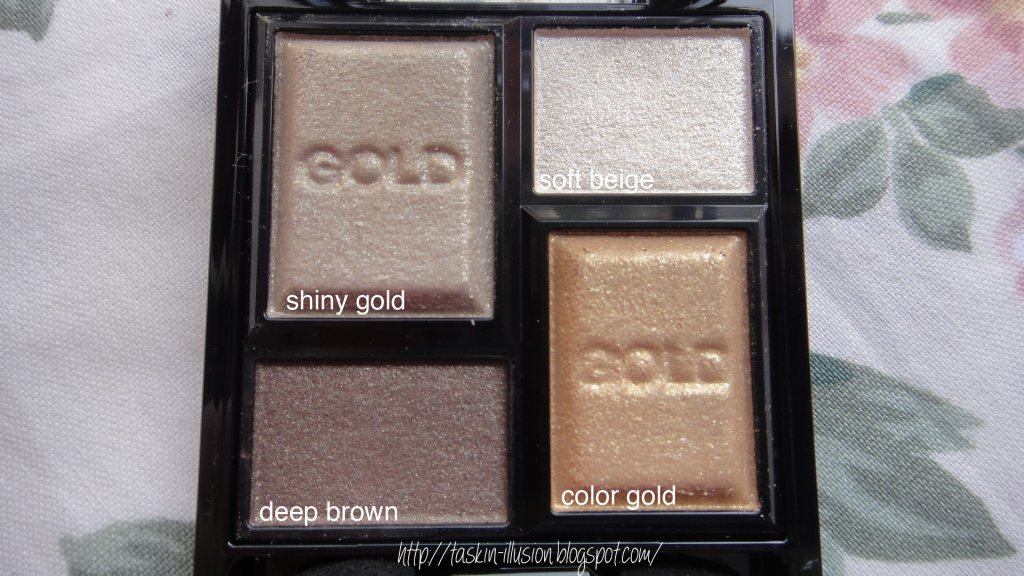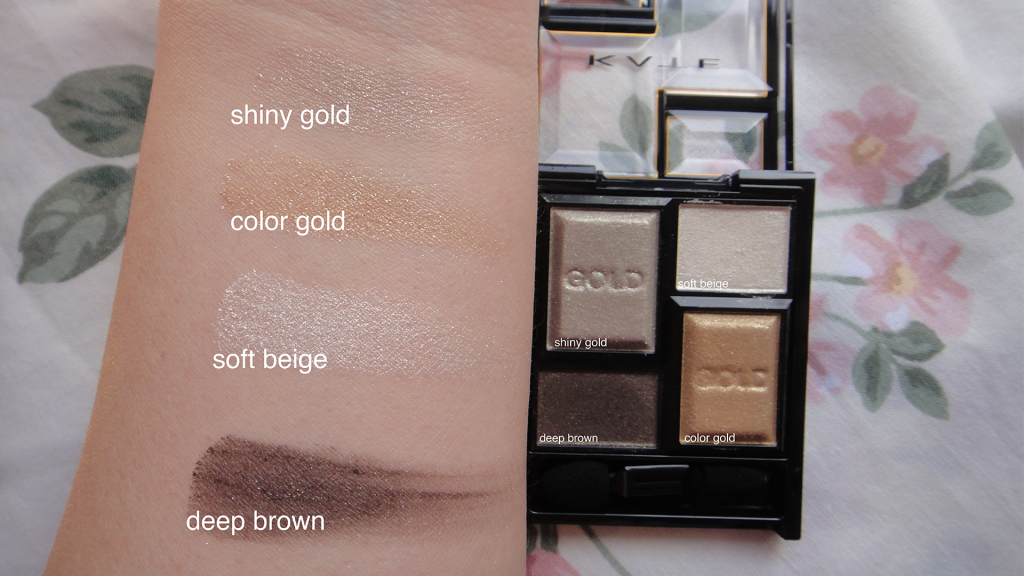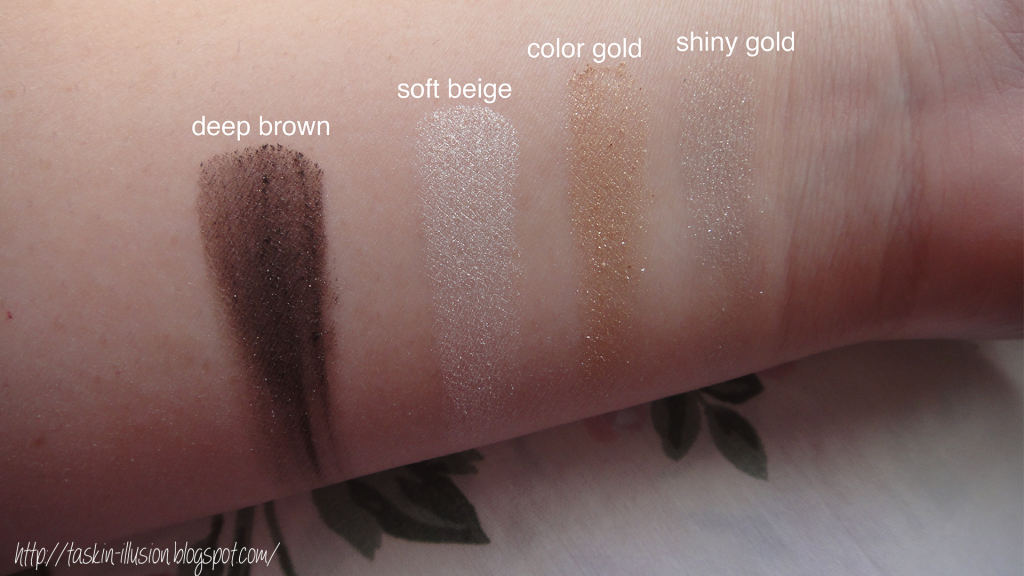 Directions/Application
For application, I used my fingertips to easy blend. I usually skip using eyeshadow as a liner but decided to do it for you girls just so you can see the look. I applied as directed. The top right picture, I used both the soft beige and shiny gold. Can hardly tell them apart but my lids are glowing with shimmer xD. Gold was easy to apply very pigmented. The deep brown wasn't as deep brown on my eye compared to swatch on arm. I did apply a few more layers on my lid but thought there was no point since eyeliner will most likely cover it.
This is the reason why I don't use eyeshadow as liner.
For girls who like a soft line look, this would be great. I just personally would use it on my outer corners and lower lash line.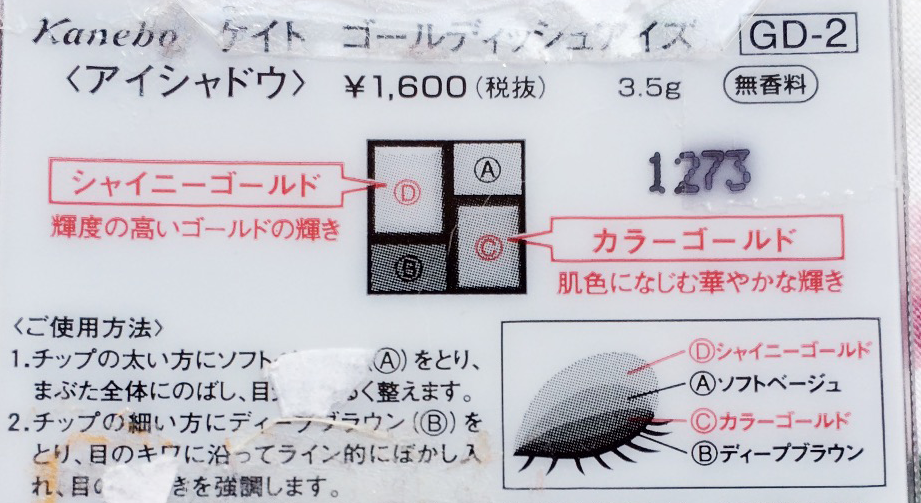 How It Looks
Natural Light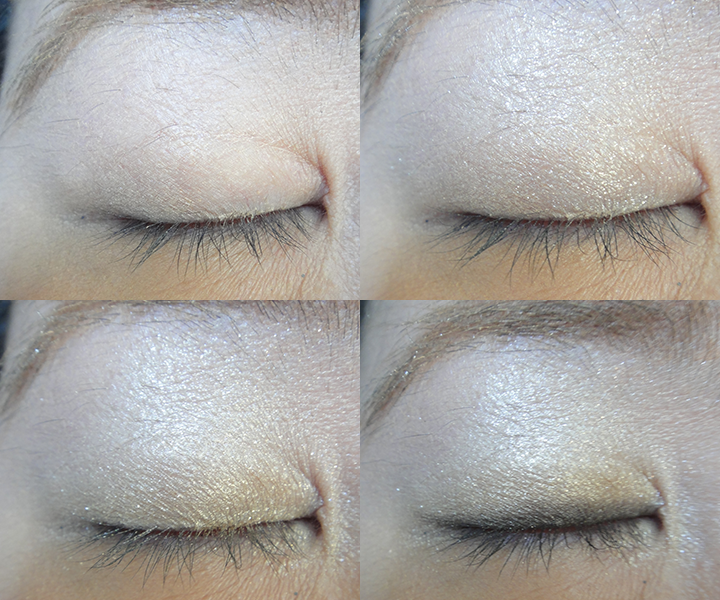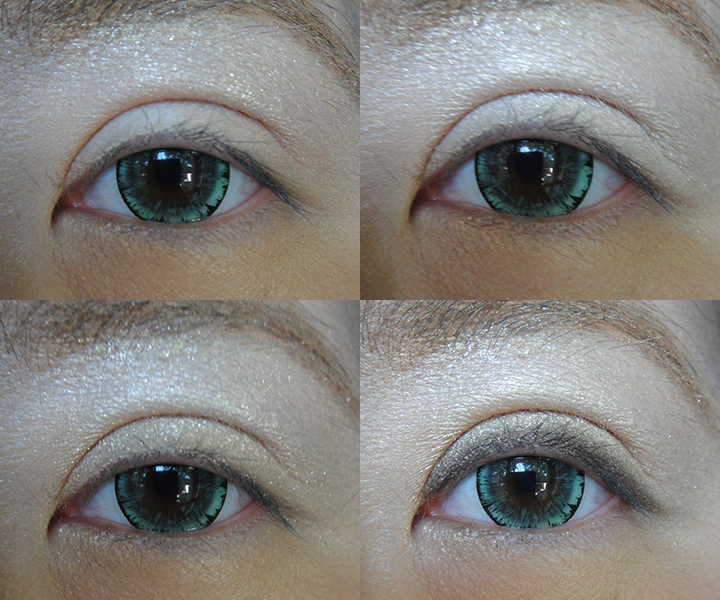 In sunlight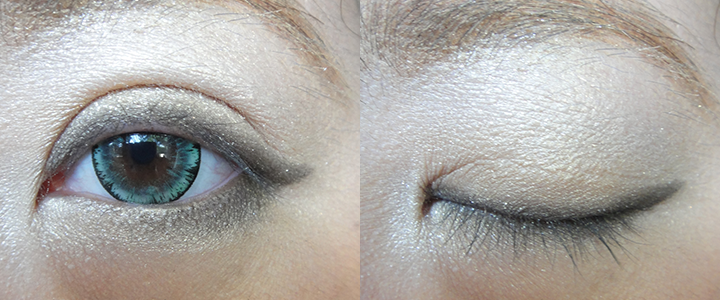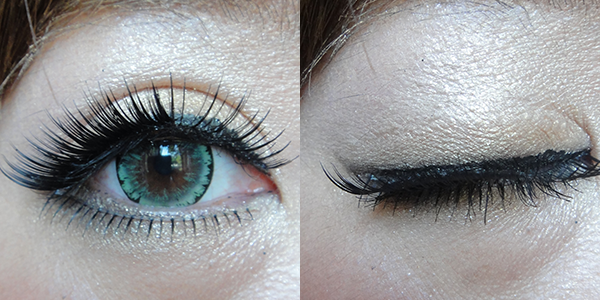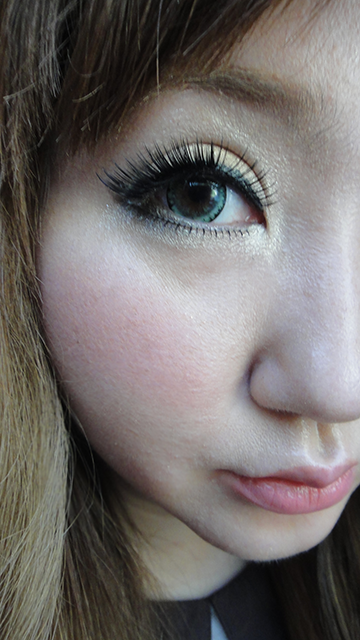 On cellphone + filters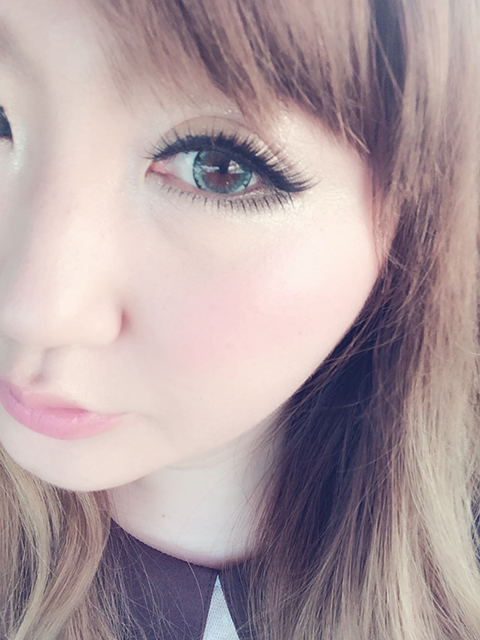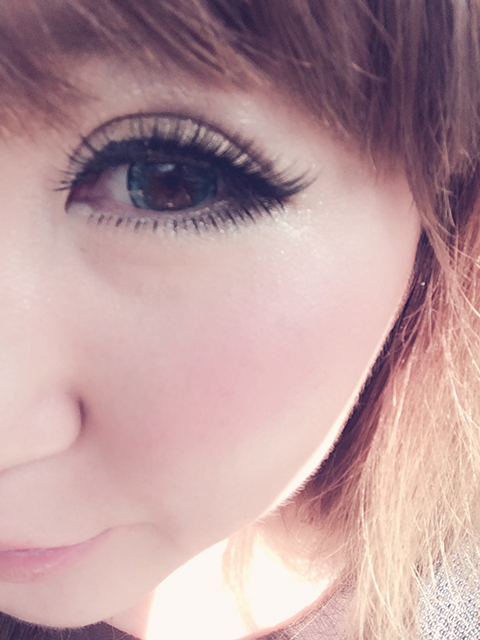 Overall:★★★
The gold colors are very light hence the name "goldish". I like the shimmery texture to make my eyes shine and wet-looking. I may not use the deep brown for liner but it works and looks great for lower lash line. It lasts all day.
Pros
- Lasts all day
- Achieve light gold eyes
- Shimmery
Cons
- Brown liner as a bit of glitter in it (would've been better without it).
- No mirror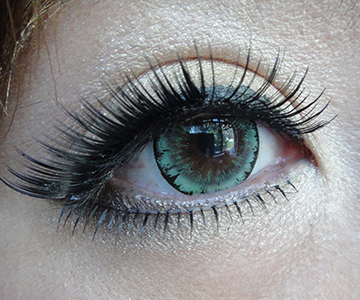 Thanks for checking out my blog!