Yesterday I went to Nisei week's ending ceremony. It's not as spectacular as the grand opening that occurred last weekend. They still had food and entertainment but no parade just obon-odori. I went with my boyfriend and my friend Sarah. My friend Kevin was working at the raffle table so we met up and talked for a while. We checked out some clothing shops and food vendors. I forgot the name of a beauty store we went to but I managed to buy a few cheap masks from there. Sean got a men's facial wash and Sarah bought black head removal strips. At night we went to a bar and met up with Sarah's friends. I ordered a Lychee Breeze cocktail but waitress gave me a green apple martini. It didn't taste good. Sarah ordered Hennessy with pinapple juice. Sarah's friend, Jenn, ordered Thug Passion. I don't remember what was in it but I found it sweet tasting. Much better than my drink.
I didn't do anything fancy with my hair. I just curled my hair then made a side ponytail and added a flower pin.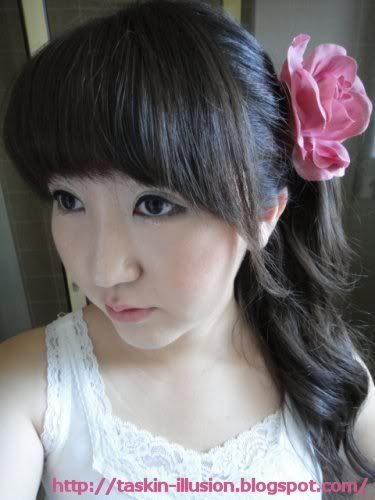 My boyfriend's mother helped me put on my yukata. I was already breaking a sweat in the process of putting it on.