So this week my house has been under a lot of reconstruction. We're getting new pipping done so the plumbers made holes all through out the place. Two out of three bathrooms are also getting remodeled. Our house looks like a mess. They destroyed part of my closet because it's near the bathroom thats getting remodeled. Lots of stress inside the house. My mom is always yelling. My dad and sister don't help out. They just leave the house the mornings leaving me to do the work. Ugh. When the workers are here, they shut off the water so we gotta walk down to our clubhouse to use the restroom/shower. After the workers leave for the day, we only have one working toilet and sink in the kitchen. I think we're gonna have to live like this for a month until all the remodeling is done. For me, I'll be at the university dorms next week so I won't have to worry but at least my mom says I can pick out new bathroom interior stuff.
If I didn't have to share a bathroom/shower with my sister I would totally decorate it like this *_*
Anyways, back to Diamond Lashes. Lashes from Sayuri
post
.
Product Info
Brand: Diamond Lash
Name: Angel eye/エンジェル eye
Series Style: Lady Glamorous No. 3
Content: 5 pairs
Price: $12-22
Packaging
For the Lady Glamorous series, it's a purple theme. The cover is kinda flimsy.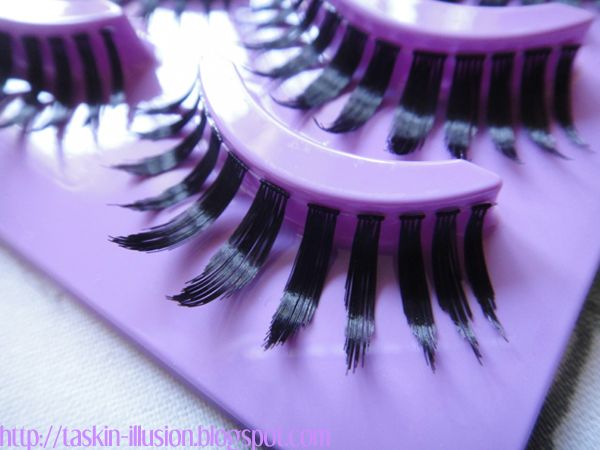 Design & Eyelash Band
The band is clear and thin. Very flexible. The design on the lashes are thick and chunky leaving gaps in between.
Before & After
Volume & Length
Never thought I would say this but it gives too much length. The volume gives me a spider legs look cause of the gaps in between the lashes.
Pros
- good for smokey eye
- adds lots of length
Cons
- spider leg appearance
- not good on light make-up
- maybe too dramatic for some
- shiny lashes
Overall 1/3
I feel like it would've looked better on me if I had a smokey eye look. They don't look good if your eye make-up is light. Sho says I look like a clown. Maybe it's just me who doesn't like it. It looks great on other girls though >.<