Revitalize & protect with this multi tasking lightweight daily moisturizer that combines chemical-free, broad-spectrum sun protection with age-defying peptides, DMAE, alpha lipoic acid, CoQ10 and organic fruit antioxidants to revitalize and protect for optimum age-defying benefits.
Product Info
❤ Age defy antioxidants
❤ Broad spectrum
❤ Sun protection
❤
Skin Type
s: Normal, Mature
❤
Skin Concerns
: Wrinkles, Sun Damage, General Health
Directions:
Protect and moisturize daily by applying a smooth, even layer to cleansed face and neck. Reapply as needed.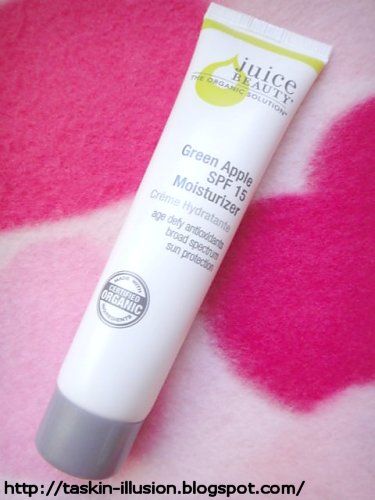 Scent
: The smell has more of a lemon smell than green apple. The smell reminds me of Fruit Loops cereal. Yum!
Texture
: White, thick and creamy. The same consistency has sunscreen. You have to rub the moisture in really good or else it'll leave a white residue.
Overall
The smell is alright but I was really looking forward to more of a green apple scent. My skin has been dry lately during this california heat wave. I think it's because I'm drinking too much soda and not enough water. This moisturizer helps put back the moisture into my face.