Yes to Cucumbers and aloe vera to cleanse, remove make-up, and nourish skin...all in one swipe!
Designed for the trendy traveler, this package of travel towelettes will fit right into your purse
Product Info
❤ Paraben-free
❤ Hypoallergenic
❤ 98% natural product
❤ 10 travel towelettes
Directions: Gently wipe face and neck to cleanse and rid skin of impurities and makeup. No need to rinse.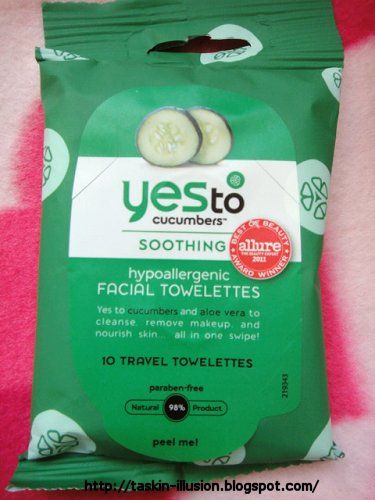 Overall:
For me, this doesnt't take off my make-up in one swipe. I say, stick with your usual make-up remover and use this to catch any leftover debree. I like to use this as a morning cleanser to wake-up my skin. It has a refreshing feeling and it helps remove my raccoon eye make-up.