I purchased
Vassen Little Mermaid Ocean Blue
from Pinky Paradise back in April. As a promotion in introducing their new Mermaid Series, the lenses were 25% off. I originally bought all 4 colors: violent, green, brown and blue but PP emailed saying the violent was temporary sold out. They said it would be available after 2 months. I wasn't going to wait so they refunded that portion of the bill.
Lens Info
Diameter:
14.5
Water Content:
42%
Base Curve:
8.6mm
Type:
1 Year Disposal
Package:
One pair of lenses and one animal lens case
Picture on website
What it looks like in person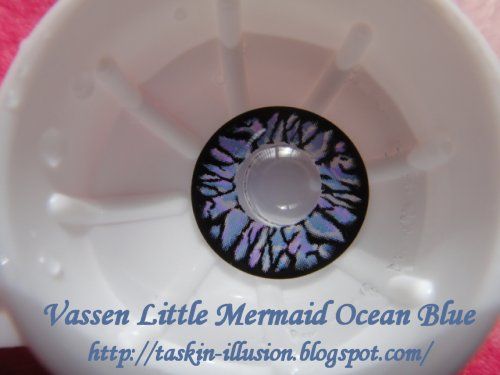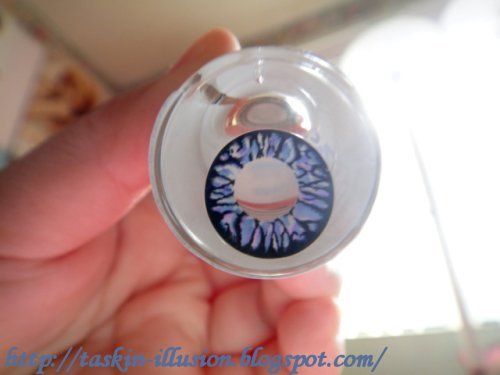 Price:
Original price $23.90. I got it for $17.93 (25% off during promotion).

Shipping:
I paid for the express shipping on April 2nd and it arrived April 9th.
Color/Design: 4/5
I like the unique design but honestly the color is more purple than blue. It's just too similar to the
violet
lens.
Comfort: 4/5
Whenever I put the lens in my left eye, the vision is a bit blurry but it later adjusts in a 1 min. I have no problems with it afterwards. My eyes were moist throughout the day.

Enlargement: 5/5
I love the enlargement on my eyes. It's pretty obvious that I'm wearing colored lens. My boyfriend says the color is too bold for my face. I still like it though.

Overall: 4/5
I guess the major problem I have with this pair is the color. I wish it were more blue instead of blue-purple. I'm also wearing these contacts in this
post
.